We can help you through the complaints procedure free of charge or on a no win, no fee basis. It can be less stressful having help from a specialist solicitor with the complaints process.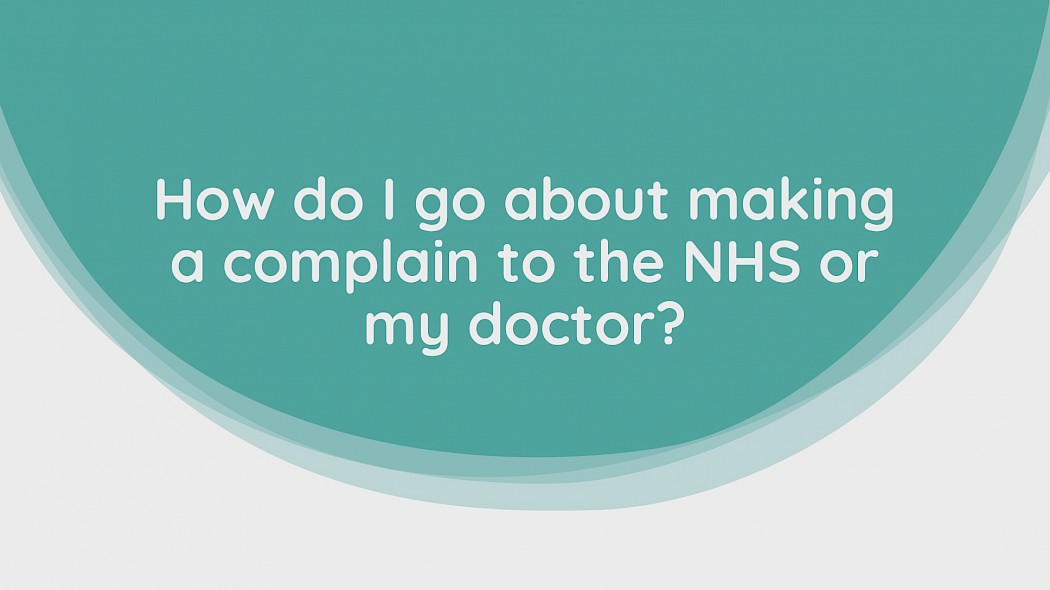 To view this video please enable JavaScript, and consider upgrading to a web browser that supports HTML5 video
However, if you are a reasonable letter writer it is best to draft something in your own words, then we can look it over for you before you send it off. We may suggest that you add additional questions that you have not thought of.
Against your GP/Dentist/Optician/Pharmacist
Most care providers have information about how complaints can be made. The first thing for you to do would be to contact your care provider and ask for this information. The complaints procedure will probably deal with both verbal and written complaints. However, it is best to make a written complaint and keep a copy for your own records.
The care provider should then investigate and provide a written response, or offer a meeting to resolve the complaint, within 10 working days of your complaint being made. If you do not hear from them within 10 days, chase it up and keep a record of who you spoke to and when if you telephone, rather than writing. If your complaint is going to take longer than 10 working days to investigate then the care provider should  inform you of this.
The written response you receive should include an explanation of what happened and may offer you a meeting.
If the care provider does invite you to attend a meeting you should take someone with you and make notes of what is said. You do not have to attend a meeting if you do  not feel comfortable. You can ask for your complaint to be dealt with by way of written response only.
If you send your complaints correspondence to us we can then advise you whether the matter should be pursued any further.
An NHS Hospital
Within 6 months of your injury, or within 6 months of you realising that you may have suffered some injury, you can ask the Hospital for the name of the Patient Representative/Complaints Co-ordinator and put your complaint in writing to them (keep a copy of your letter for your records). If you are invited to attend a meeting take someone with you who can make notes of what is said and do ask for written confirmation of what the Hospital is saying after the meeting.
Most hospital Trusts now have a department called PALS (Patient Advice and Liaison Service). PALS will help you with putting your complaint to the Hospital if you wish. Their role is to provide information, advice and support to patients and their families. You can search for your local PALS office here.
Private Care
Complain directly to the Hospital/Practitioner concerned. It is best to do this in writing and keep a copy of your letter for your records. If you are not satisfied with the response the only option in respect of private care is to complain to the General Medical Council (see below) or take legal action.
A Nursing Home
As for GP complaint above and your local Primary Care Trust may assist you with the complaint if you wish.
Help with a complaint  from Independent  Advocacy Services
There are many services available around the country and we list a few here:
Cloverleaf Advocacy Service
Cloverleaf cover Barnsley, Calderdale, East Riding of Yorkshire, Pool, Kirklees, North East Lincolnshire, North Lincolnshire, North Yorkshire, Oldham, Rotherham, Sheffield and Doncaster, Tameside, Wakefield and York. You can search for your area on the link below: –
https://www.cloverleaf-advocacy.co.uk/content/in-your-area
PASS – Professional Advocacy Support Service
This organisation covers East Yorkshire & Humberside
Website: www.professionaladvocacy.org.uk
Email: passyorkshire@googlemail.com
Tel: 01964 522988
Mind in Derbyshire
This organisation covers Derby City
Website: www.derbyshiremind.org.uk
Email: advocacy@derbyshiremind.org
Tel: 01332 623732
Age UK Derby & Derbyshire
This organisation covers Derby & Derbyshire
Website: http://www.ageuk.org.uk/derbyandderbyshire/
Email: marianokaminski@ageukderby.org.uk
Tel: 01332 343232 (1000hrs – 1500 hrs)
NHS Complaints Advocacy
This organisation has offices in Birmingham, Cambridge, London-Hounslow, Northamptonshire, Peterborough, Staffordshire, Suffolk and Warwickshire and has helpline number
0300 330 5454
Email: nhscomplaints@voiceability.org
SEAP Advocacy
This organisation covers the following areas: –
Bath and North East Somerset, Bracknell Forest, Bristol, Buckinghamshire, Cornwall, East Sussex, Isle of Wight, Isles of Scilly, Kent, London Borough of Bromley, Milton Keynes, North Somerset, Oxfordshire, Plymouth, Royal Borough of Windsor & Maidenhead. Southampton City, Torbay, West Berkshire, Wiltshire and Wokingham.
Tel: 0330 440 9000
Email: info@seap.org.uk
Or text SEAP to 80800
Advocacy First
This organisation covers London Borough of Bromley
Website: www.advocacyfirst.org.uk
Email: info@advocacyfirst.org.uk
Tel: 020 8460 6712
Sandwell Advocacy
This organisation covers the following areas:-
Sandwell (Tipton, West Bromwich, Oldbury, Wednesbury, Smethwick and Rowley)
Website: www.sandwelladvocacy.org
Email: sandwelladvocacy@btconnect.com
Tel: 0121 520 8070
POhWER
This organisation covers the following areas:-
East of England, West Midlands, East Midlands, London, West Sussex, East Sussex, Brighton and Hove
Website: www.pohwer.net
Email: pohwer@pohwer.net
Tel: 0300 456 2370
OPAALUK – Advocating Change for Older People
This organisation covers all areas of the UK
Website: http://opaal.org.uk/
Email: admin@opaal.org.uk

Further Steps after an NHS Complaint
The Healthcare Commission, Commission for Social Care Inspection and the Mental Health Act Commission ceased to exist on 31 March 2009. The Care Quality Commission is the new health and social care regulator for England. The web address is
You can take your complaint further with The Care Quality Commission if you are not happy with the response to your complaint that was made directly to the medical care provider.
Parliamentary & Health Service Ombudsman
You can write to the Ombudsman within 12 months of realising you have a complaint. The Ombudsman can extend this time limit in certain circumstances but this is entirely at the Ombudsman's discretion.
The contact details are:
The Parliamentary and Health Service Ombudsman,
Millbank Tower, Millbank,
London SW1 4QP.
You would need to complete a Complaints form and this can be printed off from the internet
www.ombudsman.org.uk (or you can telephone for a form 0845 015 4033)
The General Medical Council ("GMC")

The GMC can investigate any complaint they receive about a doctor, whether it comes from a member of the public, from another Doctor or from a Public Authority and every complaint is considered carefully.
The GMC cannot award compensation but they can take action ranging from a warning letter to, in the most serious cases, restricting or removing the Doctor's right to practice medicine. In the first instance, you should write to the GMC at Fitness to Practice Directorate, General Medical Council, St James' Building, 79 Oxford Street, Manchester, M1 6FQ, giving them as much information as you can, together with the full name and address of the Doctor and the full names and addresses of all your friends and relatives who can support your complaint from their own personal knowledge.
Your letter should give the GMC sufficient information to initially screen your complaint and decide whether it is a matter appropriate for them to pursue.
There is no time limit for making a complaint and you do not need to have a Solicitor for making a complaint to the GMC.
If you wish the Doctor involved to know that you are making a complaint to the GMC then you should make that clear in your initial letter to the GMC. Otherwise, they will not let the Doctor know immediately. On the other hand, you may make a decision that you wish to keep the matter from the Doctor concerned until the GMC have looked at it initially. This is entirely a matter for you.
If the GMC decide your complaint should be taken further they will then ask you to make a sworn written Statement to support your complaint and at that stage, you may wish to come back to me to assist you in this respect. I may have to raise a charge to you for this service because I would have to put your Statement and letter to the GMC in a suitable form together with any other information that may be helpful. You would then need to take your Statement to another Solicitor to be sworn which would cost a minimum of £5.00 plus £2.00 for each exhibit attached to the Statement.
About Medical Solicitors
Our friendly team of specialist lawyers at Medical Solicitors have the expertise to help you succeed in a medical negligence claim for compensation if you have suffered from poor care.
Compensation can be claimed where there has been inappropriate advice given concerning treatment options and the risks and benefits of the various options, where there have been excessive delays in providing you with treatment, or where there has been substandard care that amounts to actual Medical Negligence. 
Do contact our friendly team of specialist lawyers at Medical Solicitors. We conduct most of our Clinical and Medical Negligence claims under 'No Win, No Fee' agreements, also known as Conditional Fee Agreements. So, you do not have to worry about how you are going to afford to bring a medical negligence compensation claim. You have nothing to lose in speaking to us.