Please don't let worries about time limits put you off contacting us even if you think you may have left it too long.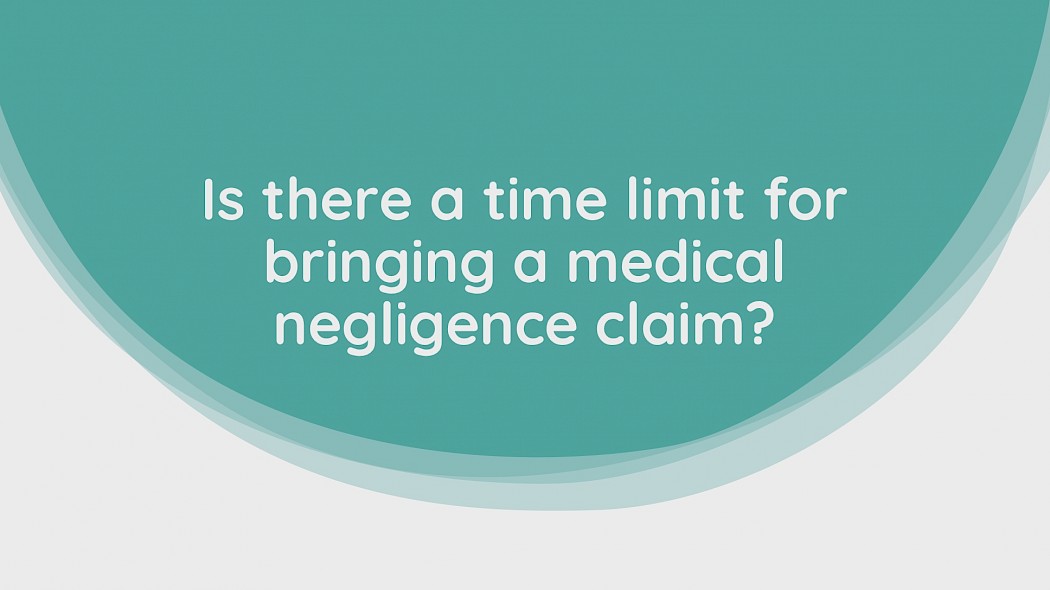 To view this video please enable JavaScript, and consider upgrading to a web browser that supports HTML5 video
Unlike other firms, we do not shy away from cases with time difficulties, but we do sometimes take on cases that have a very good chance of success, despite a time difficulty, if there are reasonable grounds to seek permission to go ahead from the court. We do not have a policy (like many other firms) of automatically turning away cases that are close to
We do not have a policy (like many other firms) of automatically turning away cases that are close to possible expiry of the usual time limits. 
The General Rule
Yes, generally speaking, there is a 3 year time limit for issuing Court proceedings for Clinical Negligence claims.  A Claim Form should  be issued in Court within 3 years of the applicable date to prevent your potential claim from possibly being time-barred. The applicable date is either the date of the treatment or accident that lead you to seek advice, or the date upon which you realised or ought to have known that your injuries were caused by the treatment or accident.
It is not necessary for you to know whether the treatment was negligent, just that it may have caused you injury.
Exceptions to the general rule
In cases that arise because a relative was killed by the treatment or accident, the 3 year period runs from the date of the death unless the person bringing the claim is under 18.
In cases involving children, the 3-year time limit does not start to run until their 18th birthday unless the date upon which they become aware that their injuries could be caused by their treatment is later than this.
In cases involving someone who is not capable of instructing a solicitor, the 3 year time limit does not run until such time as the person regains the capacity necessary to understand and bring legal proceedings.  This test is applied on a case by case basis and the fact that someone lacks the capacity to administer their own affairs does not necessarily mean that they lack capacity to instruct a solicitor. For example, time does not run at all for the mentally disabled or disabled people who are not able to speak to or communicate effectively with a solicitor.
The Court does have a limited discretion to allow cases to continue outside the 3-year time limit. Even if you think you may be outside of the time limit you can still contact us to ask what we think about your case and whether you might be able to apply for discretion. Clearly, time is of the essence in such cases and you should not delay, as ongoing delay can be prejudicial to arguments for discretion.
Whether time can be extended does depend on the facts of every case so, go on…just ask us! Speak to our friendly team today.
About Medical Solicitors
Our friendly team of specialist lawyers at Medical Solicitors have a lot of experience in bringing successful medical negligence claims.
Compensation can be claimed where there has been delay in getting a patient to hospital, delay in diagnosis, inappropriate advice given concerning  care options and risks and benefits of such options, where there have been excessive delays in providing actual treatment, or where there has been any substandard care that amounts to actual Medical Negligence. 
Do contact our friendly team of specialist lawyers at Medical Solicitors. We conduct most of our Clinical and Medical Negligence claims under 'No Win, No Fee' agreements, also known as Conditional Fee Agreements. So, you do not have to worry about how you are going to afford to bring a medical negligence claim for compensation. You have nothing to lose in speaking to us.